Chornobyl Initiatives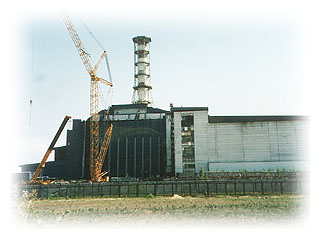 Note: The information presented in this section of the Web site is presented for historical reference.
On April 26, 1986, Chornobyl's Unit 4 reactor exploded during a test of the plant's turbine-generator system. The reactor core was destroyed. The explosion and subsequent fires dispersed large amounts of radioactive material in the form of gases and dust particles. Thermal plumes as high as 10 kilometers (6 miles) carried this material across portions of Ukraine, Belarus and Russia. Smaller amounts were transported to western Europe, and fallout was detected in the United States.
Chornobyl's Unit 2 reactor was shut down five years later after a serious turbine building fire. Unit 1 was closed in November of 1996. The plant's remaining reactor, Unit 3, is still operating. This reactor provides urgently needed electricity in a country with a fragile economy and uncertain power supplies.
Safety problems, however, have led the international community to call for complete and permanent closure of the Chornobyl plant.
In December 1995, Ukraine signed a memorandum of understanding with the G-7 countries to close the Chornobyl plant by the year 2000. As part of that memorandum, the G-7 countries agreed to help remediate current risks at Chornobyl, support energy efficiency and help alleviate the socioeconomic impacts of Chornobyl's closure. Other projects include the establishment of a research center in the nearby town of Slavutych and efforts to upgrade the unstable "shelter" around the destroyed Unit 4 reactor.
The U.S. Department of Energy is involved in three of these crucial projects:
Chornobyl Center for Nuclear Safety, Radioactive Waste and Radioecology
Remediation of Current Risks