US Dept. of Energy
Office of International Nuclear Safety and Cooperation
1000 Independence Ave S.W.
Washington, DC 20585
(301) 903-0234
At a nuclear power plant, the reactor's confinement structure is designed to contain radioactivity and prevent it from reaching the outside environment. Pressure testing of the Kola VVER nuclear power reactors in Russia concluded that air leakage could occur in the structures through ducts and small gaps around doors and hatches. Weld seams in the confinement structures steel liner and the conduits that carry cables through confinement structure walls also were found to be sources for air leakage.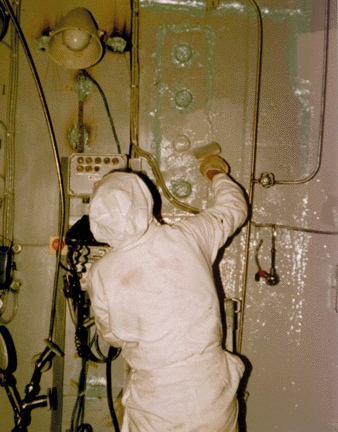 Promatec, a U.S.-based firm working under contract to the U.S. Department of Energy, identified an appropriate material that could be used to improve the integrity of the Kola confinement structures. A Promatec-developed epoxy was applied as a sealant on the confinement structures weld seams in walls, floors and ceilings where leakage had the potential to occur. A top coat of an easily decontaminated paint-like substance was applied for corrosion control and cosmetic purposes. On cable conduits, six inches of a silicone-based adhesive was initially injected, followed by a two-inch thick epoxy pressure cap.
Promatec introduced the epoxy materials to the Kola units in 1993, along with support programs that included technical advisors, application equipment, and training for plant personnel. In the years since the initial application, the sealants have met or exceeded performance expectations.
A leak rate test performed at Unit 2 in May 1996 indicated that the leakage from the confinement system had been reduced substantially.