Of Chornobyl's four reactors, only Unit 3 continues to operate. Chornobyl Unit 3 has received numerous short-term safety upgrades. In August 1997, after a review of conditions at Chornobyl, the World Association of Nuclear Operators announced that safety conditions at the plant were unacceptable. The Association noted fire risks, uncompleted safety upgrades, the poor overall physical condition of plant equipment and buildings, and an overall lack of emphasis on safety in day-to-day operations. These concerns have been the basis for most of the United States' safety projects at Unit 3. The plant's severe financial limitations have hampered progress in completing the cooperative work.
Cooling System Repairs
During a July 1997 shutdown, workers conducting annual maintenance examinations, using equipment and inspection techniques provided by the United States and Russia, discovered faulty and deteriorating welds in cooling system components, a problem that could lead to loss of cooling water to the reactor core.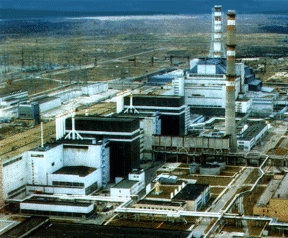 Chornobyl Units 1, 2, 3, and 4. Unit 3 can be seen in front of the most distant ventilation stack, which is mounted on an auxiliary equipment building that connects the operating Unit 3 to the shelter over Unit 4.
In September 1997, the Ukrainian Nuclear Regulatory Agency called for safety improvements before restarting the reactor. The improvements included repair of cooling system welds.
Responding to an urgent request from Chornobyl managers, the United States sent valve-seat resurfacing equipment and five pipe lathe/weld-preparation machines for use in repairing the cooling system. Prior to receiving this equipment, maintenance workers cut pipes by hand and had to remove leaking valves from the pipes for repairs. The U.S.-supplied equipment improves the integrity of welds and pipes, reducing the risk of leaks. Workers also used a new Russian-developed ultrasonic inspection technique to identify flaws in large-diameter pipe welds.
More than 700 people worked on Unit 3 repairs during the 10-month outage. Besides repairing the cooling system, they replaced 59 fuel channels, established an emergency operating center, replaced direct-current batteries, and installed equipment to measure the reactor's neutron void coefficient.
Emergency Operating Instructions
In March 1997, control room operators at Chornobyl Unit 3 began using symptom-based emergency operating instructions developed with U.S. help. Emergency operating instructions specify actions reactor operators must take to stabilize a reactor and prevent or mitigate an accident. Symptom-based instructions enable operators to take action without first having to determine the cause of the problem. The time saved can prevent disaster. Chornobyl is the first plant in Ukraine to implement a set of symptom-based emergency operating instructions.
Chornobyl specialists began drafting the instructions in October 1996, with assistance by experts from Ciel Consultants, Inc., and the Pacific Northwest National Laboratory. In September 1997, U.S. and Chornobyl specialists began testing the instructions, using computer models of accident scenarios. The tests ensured that the instructions will work as intended. Chornobyl's control room operators completed training and began using the instructions in March 1998.
Safety Parameter Display System
In January 1999, installation and testing of the Chornobyl Unit 3 safety parameter display system were completed.
Safety parameter display systems give control room operators the information they need to take quick, effective action when an abnormal event occurs. The system has sensors throughout the plant that collect information on the status of critical safety systems, such as reactor core cooling and radioactive material confinement. The information is displayed on computer screens in the control room and other locations in the plant.
The safety parameter display system assists the operator in implementing the symptom-based emergency operating instructions that have recently been implemented at the plant. The system guides the operator to the correct entry point into the emergency operating instructions. It also provides information to the operator on whether the actions being taken are working.
Simulator for Training Control Room Operators
Unit 3 control room operators began training on a U.S.-supplied analytical simulator in February 1998. Located at the nearby Slavutych Laboratory, the simulator is an efficient, effective training tool. Its computer programs mimic a variety of plant conditions, giving control room operators practice in responding to both routine and emergency situations.
Fire Protection
Fire doors. To provide 250 fire doors for Chornobyl, U.S. experts worked with Askenn Concern, a Ukrainian firm, to develop expertise in manufacturing fire doors that meet international standards. The company successfully produced the doors, which were delivered to Chornobyl in 1997. Installation began in July 1998.
Structural steel coating. In June 1998, workers completed installing a U.S.-supplied coating material on the structural steel in Chornobyl's Unit 3 turbine hall. The material is designed to help maintain the steel's integrity and prevent a collapse of the roof if a fire occurred. A 1991 fire in Chornobyl's Unit 2 turbine hall caused the roof to collapse. That reactor is closed.
Fire-retardant materials. In 1997, the plant received fire-retardant materials from the U.S.-based company Promatec to coat electrical cables and seal the room-to-room penetrations through which the cables pass. The sealant keeps fire from moving along the length of a cable and spreading from one fire containment area to another.
Firefighting equipment. The United States has provided variable spray hose nozzles, 80 sets of protective gear for firefighters, self-contained breathing apparatus, and portable fire extinguishers.
Fire detection. The Ukrainian firm Energoproekt has designed a fire and smoke detection system for Unit 3. The hardware for the system has been delivered and is being installed.
Safety Maintenance Technologies
The United States is working to reduce problems in critical piping and electrical systems by supplying up-to-date tools and training for maintenance workers. RBMK reactors, like Chornobyl Unit 3, are susceptible to power instabilities. The hazards posed by this design flaw can be compounded by inadequate maintenance. U.S. specialists have worked with RBMK managers to identify maintenance tools that will provide the fastest improvements in safety.
Pipe lathe/weld-preparation machines are used to cut pipes precisely and prepare them for welding. Use of the machine improves weld integrity, reducing the risk of leaks that could cause loss of cooling water to the reactor core. The United States delivered a pipe lathe/weld-preparation machine to Chornobyl in 1996. Prior to receiving this equipment, workers cut pipes by hand.
Early in 1997, the United States provided a second pipe lathe/weld-preparation machine to Chornobyl. In late 1997, the United States delivered three more machines for use in repairing the major cooling systems. As a result of U.S.-Ukrainian cooperation, the three new machines were delivered within five weeks of an urgent request from Chornobyl managers.
Valve-seat resurfacing equipment allows workers to repair leaking valves without having to remove them from pipes. The equipment helps maintain the integrity of pipes, reducing the risk of leaks that could lead to a loss-of-coolant accident. By August 1997, the United States had delivered the equipment and trained Chornobyl technicians to use it for major cooling system repairs.
Vibration monitoring and shaft alignment systems detect and correct imbalance and shaft misalignment in rotating machinery, such as pumps, motors, and turbines. For example, each RBMK reactor has 2,000 high-speed pumps, some of which supply cooling water to the reactor core. When a pump is misaligned or out of balance, its bearings and seals can fail, possibly leading to a loss-of-coolant accident. Chornobyl received the vibration monitoring and shaft alignment equipment in 1997. After completing training in October 1997, workers began using the equipment.
Infrared thermography equipment detects heat buildup in electrical systems, identifying hazards that could lead to equipment failure and loss of power. The U.S. Department of Energy shipped a thermography unit to Chornobyl in 1998. U.S. experts will work with plant personnel to conduct a complete thermography survey, simultaneously training workers and locating wiring, insulation, and connections that need repair. The United States also is funding work to repair the connections and to stop roof leaks that could cause damage to safety-related electrical equipment.
Insulation analysis equipment detects breakdown of the insulation around high-voltage lines and equipment, such as the transmission lines between site transformers and a plant's main generators. The U.S. Department of Energy has delivered insulation analysis equipment to Chornobyl and is training workers to use it.
Detecting and correcting insulation breakdown can prevent loss of AC power to the reactor. The loss of AC power is the trigger most likely to lead to severe accidents at RBMK reactors. For example, loss of AC power could disable the reactor's cooling pumps, leading to rapid overheating of the reactor core.
In 1991, insulation breakdown at Chornobyl's Unit 2 reactor caused a generator to explode, starting a fire and resulting in a loss of AC power to the turbine building. Workers shut down the reactor, but the turbine building's roof collapsed in the fire.
Facilities for training maintenance workers at Chornobyl were inadequate. In 1997, with U.S. funding, Chornobyl workers refurbished and equipped three maintenance training rooms.
Personnel Training
The U.S. Department of Energy is working with instructors at Chornobyl to improve safety training for plant personnel. U.S. experts provided courses on the Systematic Approach to Training, an internationally accepted training methodology. Chornobyl instructors then used the methodology to develop pilot safety courses.
In July 1997, Chornobyl instructors presented a course for technicians who, in turn, provide radiation protection training for Unit 3 personnel. The course formed the basis for more extensive training now being used by technicians assigned to protect workers in the shelter, which covers the ruined Unit 4 reactor.
Chornobyl instructors also presented a course for control room operators in October 1997.
Conduct of Operations
Historically, much of the daily business of operating nuclear power plants in the former Soviet Union was based on the knowledge and experience of individual operators, which could vary from person to person and plant to plant. With U.S. support, Chornobyl specialists have developed 16 formal written procedures that prescribe specific actions all workers must follow for routine operations.
U.S. specialists have provided training in implementing the procedures at Unit 3. In January 1997, Chornobyl personnel attended a course on procedures for isolating equipment during maintenance and performing tests before returning the equipment to service. In October 1997, Chornobyl personnel attended a course on equipment status control, which enables plant operators to know which equipment is in or out of service.
In December 1997, the United States delivered an engraver to make labels for essential safety equipment at Chornobyl, particularly the valves and switches involved in carrying out emergency operating instructions. Much of the plant's equipment has been unlabeled, increasing the risk of operator error.
Quality Assurance
The U.S. Department of Energy has worked with Chornobyl staff to improve the plant's quality assurance procedures. Chornobyl personnel visited a U.S. nuclear power plant in October and December 1995 to observe the use of internationally recognized procedures.
In October 1996, Chornobyl staff attended a course on U.S. principles and practices in quality assurance. In December 1996, U.S. and Chornobyl specialists conducted an audit of quality assurance practices at the plant. In July 1997, 21 Chornobyl staff members attended a workshop on quality assurance procedures for post-maintenance testing. In October 1997, U.S. specialists presented workshops on proactive maintenance and quality assurance procedures for on-line maintenance.
Summary
The United States is committed to working with Ukraine and other nations to reduce operating risks at Unit 3 until the Chornobyl nuclear power plant is shut down permanently in the year 2000.