Important Note: This website contains historical data from the INSP project. As of 2004 the site is no longer maintained and certain sections do not work correctly.
Introduction
The U.S. Department of Energy conducts a comprehensive, cooperative effort to reduce risks at Soviet-designed nuclear power plants. In the host countries--Armenia, Ukraine, Russia, Bulgaria, the Czech Republic, Hungary, Lithuania, Slovakia, and Kazakhstan--joint projects are correcting major safety deficiencies and establishing nuclear safety infrastructures that will be self-sustaining.
The joint efforts originated from U.S. commitments made at the G-7 conference in 1992. Amid heightened international concern about Soviet-designed reactors, world leaders agreed to collaborate with host countries to reduce risks at the older reactors. Since that time, U.S. efforts have expanded to include urgently needed safety work at 21 nuclear power plants with 65 operating reactors. U.S. work is conducted in cooperation with similar programs initiated by the other G-7 countries--Canada, France, Germany, Italy, Japan, and the United Kingdom, as well as international organizations.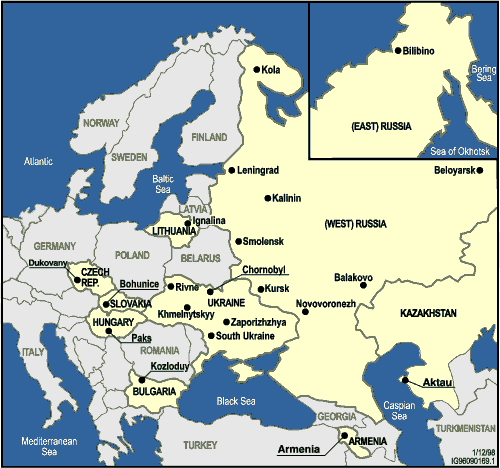 Benefits
The cooperative effort to improve safety at Soviet-designed nuclear power plants carries significant benefits:
It reduces the likelihood of a nuclear accident that could destabilize new democratic governments, require a massive influx of international aid, and threaten the viability of nuclear power worldwide.
It promotes a stable business climate for international investments in countries with Soviet-designed reactors.
It provides protection for Europe's public, economic, and environmental health and for U.S. citizens in Europe. As was clear after the 1986 Chornobyl accident, the effects of a nuclear disaster extend beyond international borders. More than 60,000 square miles of land were heavily contaminated in Ukraine, Belarus, and Russia. Neighboring European countries were contaminated, and fallout was detected in the United States.
Safety Objectives
The United States supports host countries in their efforts to reduce the most serious risks at Soviet-designed nuclear power plants. The primary objectives include improving the plants' physical operating conditions, installing safety equipment, developing improved safety procedures, establishing regional centers for training reactor personnel, installing simulators for training control room operators, conducting in-depth safety assessments, and addressing the extraordinary problems at Chornobyl. A further priority is developing an institutional and regulatory framework for plant design, construction, regulation, and operation that is in keeping with international practices.
Participants
The U.S. Department of Energy's Office of International Nuclear Safety and Cooperation manages U.S. involvement in the cooperative work. The U.S. Department of Energy's Pacific Northwest National Laboratory in Richland, Washington, provides technical leadership, with project assistance from other U.S. national laboratories, U.S. businesses, host-country nuclear power plants, and host-country scientific organizations.
U.S. specialists work in accordance with the guidance and policies of the U.S. Department of State and the U.S. Agency for International Development and in close collaboration with the U.S. Nuclear Regulatory Commission.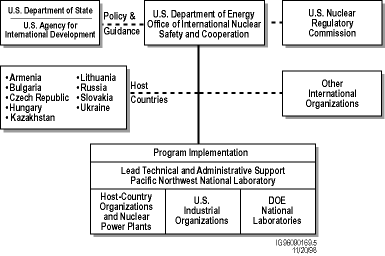 The term technology transfer refers not just to the delivery of hardware but to passing on knowledge, processes, and methodologies. The goal is to establish an infrastructure in each country that supports the safe operation and maintenance of nuclear power plants.

U.S. specialists have established working agreements with organizations in the nine host countries, including key government agencies, scientific institutions, engineering and design organizations, and the nuclear power plants.

Many other international organizations assist with improving the safety of Soviet-designed reactors, such as the Nuclear Energy Agency of the Organization for Economic Cooperation and Development, the International Atomic Energy Agency, the European Bank for Reconstruction and Development, the Institute of Nuclear Power Operations, the World Association of Nuclear Operators, and TACIS, a European Union assistance program.

More than 90 U.S. commercial firms have provided equipment, training, expert services, and technology transfer.
---
---