CZECH REPUBLIC
Dukovany Nuclear Power Plant
Country Profile
Size: 30,387 square miles (slightly smaller than South Carolina)
Population1: 10.3 million (1999 est.)
Gross Domestic Product1: $116.7 billion (1998 est.)
   (purchasing power parity)
Gross Domestic Product per Capita: $11,300 (1998 est.)
Electricity Production1: 61.5 billion kWh (1998 est.)
Electricity Consumption per Capita: 6,000 kWh (1998 est.)
Total Installed Generating Capacity (1998)2: 13,950 MW
   Thermal-Fired Plants: 11,290 MW (81%)
   Nuclear Plants: 1,760 MW (13%)
   Hydroelectric Plants: 900 MW (6%)

1 CIA Fact Book.
2 Energy Information Administration, 1999. www.eia.doe.gov.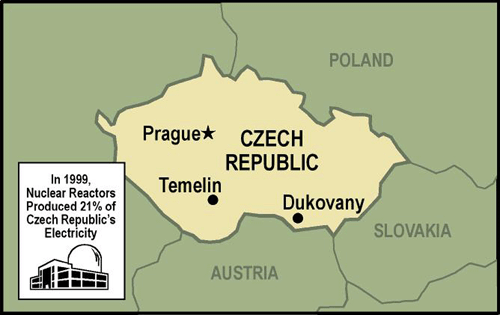 Czech Republic's Nuclear Power Program
The Czech Republic operates four VVER-440/213 units at Dukovany. In 1999, the four operating reactors at the Dukovany nuclear power plant provided 21 percent of the Czech Republic's electricity.
Two VVER-1000 units are under construction at the Temelin site. The instrumentation and control systems for these reactors are being extensively modified. When completed, they will be in conformance with accepted international safety practices.
On October 10, 2000, as this booklet went to press, Temelin Unit 1 started up for its initial testing.
Czech Republic's Key Nuclear Organizations
State Office of Nuclear Safety - Czech Republic's nuclear regulatory authority.
Ministry of Industry and Trade, Section for Nuclear Area Administration - agency responsible for nuclear power plants and fuel cycle.
Nuclear Research Institute - organization responsible for nuclear research and development and operation of research reactors.
Dukovany Nuclear Power Plant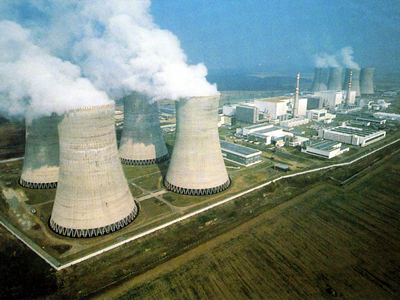 Plant Manager: Ales John
Utility: Ceske Energeticke Zavody
Telephone No.: 42-509-9231
Fax: 42-509-92-2495
Unit
Reactor
Model
Net
Output
Initial
Start
Status
1
VVER-
440/213
408 MWe
2/1985
Operating
2
VVER-
440/213
408 MWe
1/1986
Operating
3
VVER-
440/213
408 MWe
10/1986
Operating
4
VVER-
440/213
408 MWe
6/1987
Operating
Scope and Status of Activities
DOE's projects at Dukovany nuclear power plant include development of improved operating procedures and practices (1992-1994), performance of plant safety analyses (1993-1996), and transfer of capabilities for performing plant safety assessments (1996-1999).
Accomplishments
Management and Operational Safety
A complete set of planned management and operational control procedures that provide safety through improved operating practices was developed and implemented at the plant.
A plant maintenance database that helps staff predict reactor system performance was developed.
Plant Safety Evaluations
A comprehensive safety assessment program was used to identify design weaknesses and prioritize safety upgrades at the plant.
Introductory training workshops were conducted for regulators and plant personnel on safety analysis tools and application methods in support of Czech Republic infrastructure development for safety assessments.
A Level 1 ("internal events") probabilistic risk analysis that identified plant conditions that could damage the reactor was completed. Plant staff modified the plant's operating requirements to reduce the risks identified by the analysis.
A project is under way to evaluate operator performance during emergency operating procedure exercises on the Bohunice simulator. The results will be used to update the Dukovany safety assessment.
---
---